In late March, the Fair Work Amendment (Supporting Australia's Jobs and Economic Recovery) Act 2021 (Amendment Act) passed both Houses of Federal Parliament, which amended the Fair Work Act 2009 to include reforms to workplace rights and obligations for casual employees.  The legislation has received Royal Assent and is therefore now in operation, with some transitional arrangements.
The key aspects of the Casual Reforms include: 
1. A definition of 'casual employment'
– Sets limitations on 'double dipping' and confirms requirements for employment contracts
2. Employer Obligation to provide offer of Casual Conversion (Exception for 'Small Business Employers) to eligible casual employees now forms part of the National Employment Standards
– Casual Employees of 'Small Business Employers' extended the right to request conversion – previously in some Award/Agreements
3. The introduction of the Casual Employment Information Statement 
– Including when this must be made available to new/existing casuals 
ER Strategies has put together an interactive guide to the new legislation, breaking down the key changes outlined above and the implications the changes will have for businesses who engage casual employees. Click here, or on the graphic below, to access the guide which takes you through all the 'need-to-know' information about the new legislation. The interactive guide has an 'Index' page, allowing readers to click through to specific parts of the summary they may find most useful. Just click on each bubble on the 'Index' page to get started! 
Click here, or the image below to gain access to our interactive guide and see how the changes to casual employment impacts your business.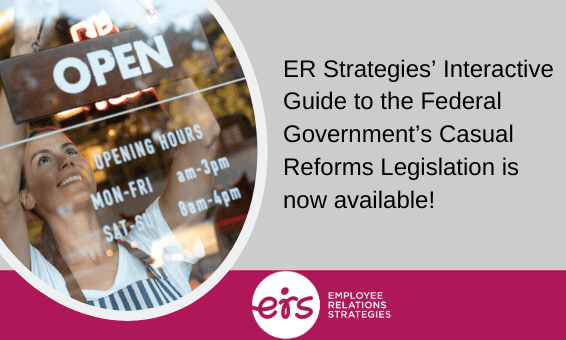 The reforms have implications (and benefits!) for both casual employees, and employers of casuals. For example, the newly introduced definition of 'casual employment' largely prevents the opportunity for double-dipping of National Employment Standard (NES) based entitlements reserved for permanent employees where the casual employee was in receipt of casual loading. This has been achieved by inserting a retrospective definition of what constitutes casual employment into the Fair Work Act. This is a big step towards relieving concerns held by some employers, in light of recent Federal Court decisions into similar matters, and aids in safeguarding a post-pandemic economic recovery.  
In return, casual employees will now see casual conversion provisions form part of their minimum entitlements under the NES, which also includes specific obligations for (most) employers to 'offer' permanency to casual employees who meet the required eligibility criteria, and the opportunity for other casual employees to make a request for casual conversion if eligible. 
Whilst the legislation officially came into effect on the 27th of March 2021, employers need to be aware of the key dates relating to their specific obligations under the legislation, as some actions are required now, and others may not be required until 27 September 2021 under the transitional provisions of the legislation. All employers will need to review their obligations as a result of this legislation and take action where required.  
Clients of ER Strategies can contact the team on 1300 55 66 37 to discuss the casual reforms and confirm what actions are required for their businesses.  
If you are not a client of ER Strategies and would like further information about the casual reforms in relation to your business, please call ER Strategies on 1300 55 66 37 to discuss how we can assist your business.