As you will be aware, the Fair Work Act provides employees with 10 days of paid personal and carer's leave for each year of employment with an employer (s96). It accrues progressively during a year of service and accumulates from year to year.
The Act provides (s97) that:
An employee may take paid personal / carer's leave if the leave is taken:
Because the employee is not fit for work because of a personal illness or personal injury affecting the employee or
To provide care or support to a member of the employee's immediate family or member of the employee's household because of:
Personal illness, or personal injury affecting the member or;
An unexpected emergency affecting the member
What Constitutes a Day?
The question remains – what is the definition of a "day" of personal leave when an employee may be on a 10-hour day or 12-hour shift? Is the day a standard 7.6 hours as under a 38-hour week worked over 5 days or the actual hours the employee would have worked on that day where they are on an averaging system of hours (an average of 38 hours over the cycle)?
Federal Court Ruling
On 21 August 2019 the Federal Court of Australia (Mondelez v AMWU [2019] FCAFC 138) delivered a landmark yet controversial judgement (Mondelez v AMWU 2019); in relation to 'what is and how to calculate personal & carer's leave (PCL) per the Fair Work Act 2009'.
In essence, the Court found:
Permanent employees (under the NES) are entitled to 10 days of PCL each year regardless of the ordinary hours they perform each day
The definition of a "day" should be a "working day"
Leave must be calculated in terms of working days not hours
The employee is entitled to be paid their base rate of pay for all ordinary hours had they worked that day, i.e. not averaging weekly hours
Take a look at the recent Annual Wage Reconciliations by clicking here.
How Does This Impact Me as An Employer?
The following table shows leave entitlements as a result of the Judgement:
Example 1 – the employee works 7.6 hours per day, 5 days a week & 38 ordinary hours per week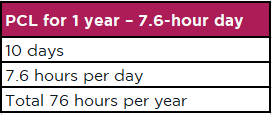 Example 2 – Employee has agreed with the employer on a flexible working arrangement comprising:
9.5 hours per day, 4 days per week & 38 ordinary hours per week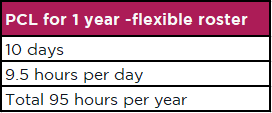 Part Days Absence on PCL
Because the Federal Court has ruled that leave is based on days and not hours, part-day absences for Parental & Carer's Leave (PCL) should be calculated as a part of a day.
For example, if the employee works a 10-hour day roster and takes 5 hours of PCL then they have used a half-day of their 10-day entitlement.
How is Other Leave Impacted?
Our interpretation of the decision is that it would also apply to leave such as compassionate leave (2 days), where the employee has an entitlement to "days" of paid leave. Those days would be calculated as the employee's working day and not be based on hours.
In relation to annual leave, it is unclear what impact the Federal Court decision will have on annual leave. The NES sets out the leave entitlement in weeks, not days. However, in practice, employees often take days of leave (i.e. not weeks), in which case the definition of a "day" as described by the Federal Court ruling may apply.
On 16 September 2019, it was announced that the Morrison Government will appeal to the High Court to overturn this landmark decision. The Attorney General and Industrial Relations Minister Christian Porter stated that the decision "sparked confusion and uncertainty around the way sick and carers leave entitlements should be calculated" and "created significant inequities between employees", leading to the appeal, ER Strategies will keep you updated as this unfolds.
We will advise of any updates or clarifications as they arise.