Last week,  the Federal Parliament passed the much anticipated 'JobKeeper' temporary changes to the Fair Work, which will provide a lifeline to eligible businesses following a significant reduction in revenue as a result of the COVID-19 virus crisis.
ER Strategies has put together an interactive summary of the legislation, breaking down the changes to the Fair Work Act which will apply to employers eligible for payments under the 'JobKeeper' scheme. The changes are designed to give employers a greater ability to retain their employees, whilst acknowledging the fluctuating needs of the business as a result of government intervention and social distancing measures, providing some much needed flexibility which was previously very restricted by the Fair Work Act.
Click here, or on the image below, to view our interactive summary of the legislation. The interactive summary has a contents page, allowing readers to click through to specific parts of the summary they may find most useful. Just click on each bubble on the Home page to get started!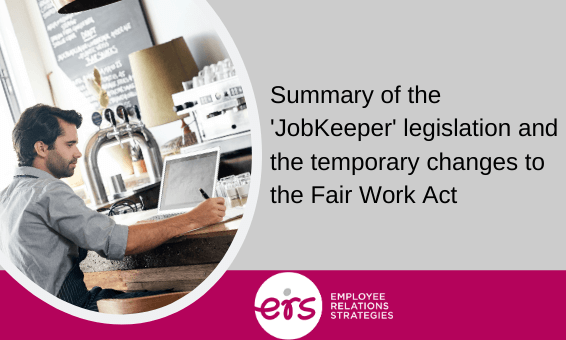 Changes range from extending employers' ability to stand down staff who cannot be usefully employed as a result of the crisis,  to the ability to change employee's duties and locations of work if reasonably required, and to agree to taking annual leave, including at half pay for twice the time. The new legislation also outlines certain parameters to assist in protecting employees' workplace rights, including an hourly rate guarantee for employees whose hours have been reduced.
ER Strategies will continue to assist our clients navigate these changes to their employee relations arrangements over the coming weeks, and months. Clients of ER Strategies can contact the team during business hours on 1300 55 66 37 for assistance. Non-clients can call us, or contact us here, to discuss how we can best help your business as we move through these unprecedented times.
Further information
Click here for the official government resources about the Job Keeper initiative.
As always, clients of ER Strategies can contact us on 1300 55 66 37 during business hours to discuss their specific issues.